H20cean Sea Salt Piercing Aftercare Spray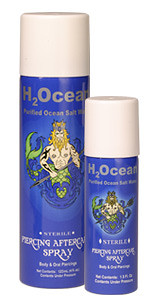 H20cean Spray is a great product that you can use to ensure you are taking proper care of your nose piercing. The ingredients of this product are natural to your body. Ingredients include; purified water, sea salt, lysozyme, & sodium benzoate. In addition to the natural ingredients, it contains more than 82 essential trace elements and minerals to assist in keeping your skin healthy.
In order to be able to wear the fashionable nose pins you hoped to wear at the time of your piercing, you need to take great care of the area to avoid infections and any chance of the nose pin being rejected.
H20cean spray will help to heal your piercing by keeping the area clean, removing discharge, and lymph secretions. For the best results spray the solution directly onto the nose pin and surrounding area. When the area is healed, and you are ready to change your nose pin it is also a good idea to spray the nose pin before inserting it into the nostril. This will help ensure the nose pin is sterile, and also makes it easier to push through.
H20cean can be found online at www.H20cean.com, or at a local piercing shop.