Our Nose Jewelry is measured in Millimeters and Gauges
Nose Jewelry Measurement Charts
Stones
1mm-1.5mm- is the smallest size available. For those that like a discreet dainty sparkle.
2mm- is the average size, most popular style purchased.
2.5mm - For those that like to show a little more of their sparkle.
3mm-3.5mm - is the larger stone we carry for those that want to show a dazzling sparkle!
*The Photos Below will help to give you an idea of Nose Jewelry Gem Sizing*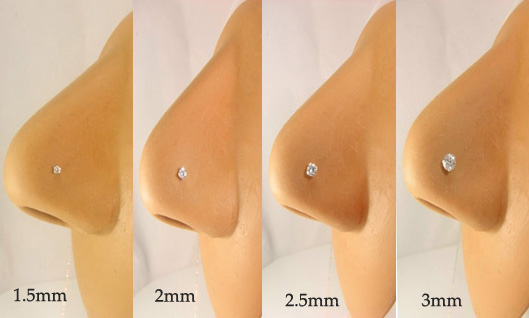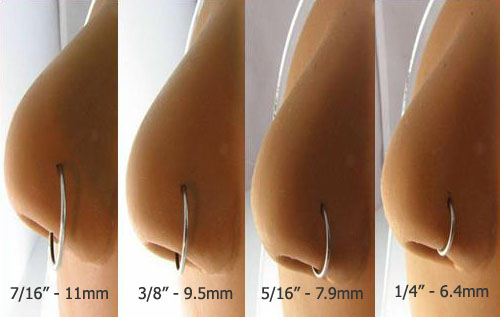 Gauges - Thickness of the post
16 Gauge - 1.3mm

18 Gauge - 1mm
20 Gauge - 0.8mm
22 Gauge - 0.6mm
The nose piercing is one of the fastest and most adaptable piercings, and will adapt to whichever size gauge you put in it. If you have an 18G piercing you can wear 20G nose studs, nose screws or nose rings as well and your piercing will adapt very quickly. If you want to go back to an 18G, it will adapt. If going from a thinner gauge nose stud, nose screw or nose ring to a thicker gauge, you can stretch your piercing by putting some pure vitamin e oil on your nose jewelry and your nose piercing and slowly guiding the stud through. If you are going from a thicker gauge to a thinner gauge, place the stud in just before bedtime and place a small round band-aid over top to keep it from falling out. By morning it should be adapted and wearable. Please note, you should only go up or down by one gauge at a time.
Style Terms
Nose Stud - This is a straight post that can be customized into an L or screw shape.
Nose Bone - This is a straight post with a small ball on the end.
Nose Ring - This is a captive or hoop style nose Jewelry.
Nose Screw - This post is formed into a screw shape. The left nostril screw will bend to the right if the gem is facing towards you, making the right nostril screw bend to the left.
L Bend - This post is formed into an L shape.
Quality Nose Jewelry!!
We specialize in nose Jewelry and have hundreds of different styles and colors of high quality Nose Studs, Nose Bones and Nose Screws. In Platinum, Gold, White Gold, Surgical Steel, Sterling Silver and Bio-Flex..Genuine diamonds, Emeralds, Sapphires, Swarovski crystals, High Quality Cubic Zirconia's and more.......All Nose Jewelry items offer FREE SHIPPING for order over 25.00!
Custom Jewelry
We also make Custom Nose Jewelry. If there is a style, color or size you are looking for that you don't see in our store. Or if you have your own stone you would like set in a Nose Stud or Nose Screw. Please message or e-mail at sales@qualitynosestuds.com and we will do our best to fill your request.